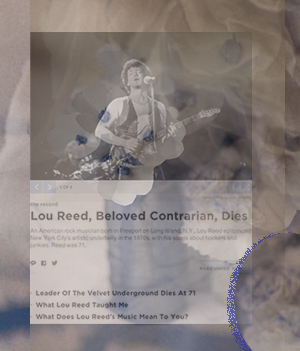 Many people around the world are mourning Lou Reed, whose seminal work with Velvet Underground transformed the way many people played and heard music. He had a huge impact on our culture, largely because he dared to look life differently. In some ways he was perpetually an angry teenager, looking at the world sideways through a cracked lens and spitting out poetic lyrics about the ugliest, darkest parts of human relationships and existence. For that reason, I can't listen to his music for long but I totally admire his writing, his music, his artistic daring and accomplishments.
Later in life, Reed took up mellow hobbies like tai chi and photography. He lent his song Perfect Day to the BBC and its Children in Need charity, married Laurie Anderson and settled into his role as one of rock's coolest godfathers. His spunk remained, however, as The Guardian reported back in June after his liver transplant. Today, the tributes are rolling in from around the world across the Internet.
Here in Virginia, the tears are rolling for Gabriella Miller, a little girl with a heart big enough for the whole world. Diagnosed with an inoperable brain tumor at the age of 9, she chose to spend her precious time on earth smashing walnuts and raising awareness about childhood cancers. It wasn't enough that the Make-A-Wish Foundation granted her three wishes (a trip to Paris, becoming an author and graduating from college). Gabriella wanted other children to have their wishes fulfilled too. She embarked on a campaign to gather letters to Santa, deliver them to Macy's and thus raise $1 per letter. Her quest succeeded far beyond expectations.
Despite her indomitable spirit, Gabriella did not win her fight against cancer. As she entered hospice, a new campaign began, this time collecting paper flowers. These flowers will be shared at her memorial and then delivered to the families of other children fighting cancer, their caregivers, nurses and doctors, as well as scientists, policy makers and advocates for better cancer treatments and cures. I learned about Gabriella from my Team in Training teammates who plan to contribute flowers. People are sending paper flowers to Leesburg from all over the world (see below for details). Roberto and I had paper flowers at our wedding, so there's an emotional connection here that I didn't anticipate.
(November 10 Update: Over 1,000 people attended her memorial and 35,000 paper flowers have been delivered around the region to pharmacies, hospitals and even the National Institutes of Health).
Gabriella and Lou are an odd pair, and they probably don't have much in common besides leaving this world within hours of each other. Yet their zest for life can inspire us to live fully and transform our world. We don't all have to be rock stars and inspirational leaders. We just have to recognize the power of paper flowers and a perfect day…