I had a challenging but fun and very busy week, and about three this afternoon I was ready to crawl into bed with a good book. Trouble is, everything on my nightstand at the moment is either work related or deliberately somnolent. Not the best reading for refuge.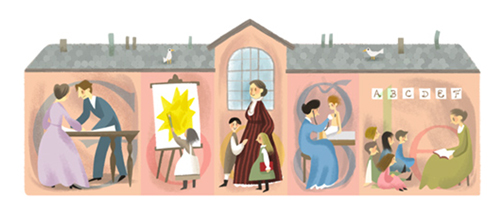 Then I discovered that today's Google Doodle honors Jane Addams. As a native to the Chicago area, I've known about Hull-House and many of her contributions to social justice here in this country. Only recently did I learn from the podcast Stuff You Missed in History class that she was also an author and peace activist who was so committed to her cause that the FBI investigated her and J. Edgar Hoover labeled her "the most dangerous woman in the country." A national heroine for her work on child labor and other causes, Addams was greatly beloved until she dared to suggest that the United States should not intervene in what was inconceivably called the Great War, the war that introduced the world to the horror of chemical weapons.
The introduction to the Illinois edition of her 1906 book Newer Ideals of Peace establishes that she was thinking about peace as more than the absence of war long before other 20th century philosophers, including Martin Luther King, Jr. Like him, she recognized the relationship between poverty and conflict and the dangers of a militarized society. I'm looking forward to reading Newer Ideals of Peace this weekend as the world considers what to do about the situation in Syria. It seems fitting to see what this wise Nobel Peace Laureate has to say, and how it could apply today. Maybe it's not that supposedly scintillating novel everyone talked about all summer, but I'm looking forward to it.