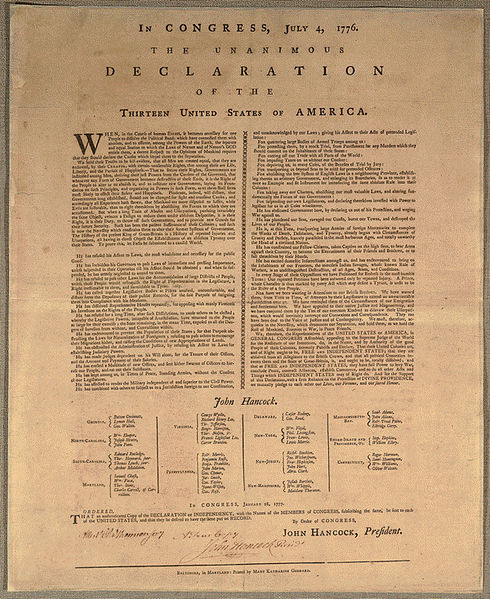 There was not a single female signer of the Declaration of Independence, but a woman printed the names of the signers for the first time in January, 1777. Emboldened by the progress of the war for independence, Congress ordered 'an authenticated copy complete with the names of the signers' distributed to the states. Thus Baltimore printer Mary Kate Goddard produced a beautiful broadside using the more familiar engrossed copy we've all seen. Before that, the public was not aware of exactly who had signed the document.
There was good reason for secrecy. Though today we call the 56 signers 'heroes' and founding fathers, at the time they were known as revolutionaries and traitors who would have been hanged if caught by the British. They staked all they possessed on this radical idea:
We hold these truths to be self-evident, that all men are created equal, that they are endowed by their Creator with certain unalienable Rights, that among these are Life, Liberty and the pursuit of Happiness.
Today, most of us only remember the most famous of the signers – John Adams, his second cousin Samuel Adams, Benjamin Franklin, Thomas Jefferson and of course the bold John Hancock. The Society of the Descendents of the Signers of the Declaration of Independence is trying to change that by placing bronze plaques at the gravesites or homes of these founding fathers.  Their efforts might be paying off – it was impossible to log on to USHistory.org's Index of Signers today.
Many of us will be celebrating today with fireworks, barbecues and parties. Maybe that's why when I was a kid, I thought the end of the word independence was spelled 'dance.' It is a great thing to be so free. Let us not forget the price.