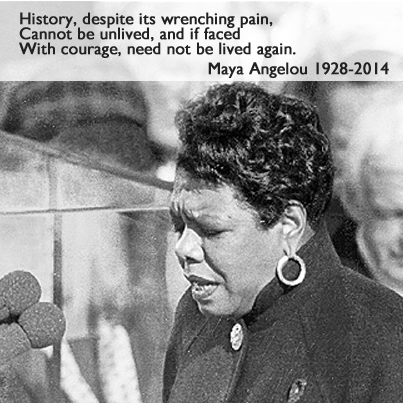 Maya Angelou wrote about her life in several books, but we also read her heart in her expressive face. She knew the power of her voice and had pride in her many accomplishments. I was awakened to Angelou's powerful gift when she read the inaugural poem On the Pulse of the Morning in 1993. That was the first and last time I ever bought an entire poem as a book; I read it and re-read it and sometimes it still feels new to me when I read it again. What strikes me the most when I read about Maya Angelou's life is her fortitude. She never, never gave up. In a wonderful public interview with George Plimpton for the Paris Review, she said, "There is, I hope, a thesis in my work: we may encounter many defeats, but we must not be defeated."
Over many coming days, there will be a great many lists of powerful quotes and tributes to this amazing artist. Tonight I would like to leave you with just three. They might not make anyone else's top ten, but they leapt out at me. The quote on the top picture is a stanza from On the Pulse of the Morning; I believe it is worth a great deal of thought. And action. I chose that picture from the inauguration because it reminds me of that wonderful moment. The Washington Post obituary contains a fabulous gem from a speech at a conference called Families Alive at Weber State University. There are plenty of rainbows jumping out of clouds these days, but this celestial picture adds an unexpected layer to the text: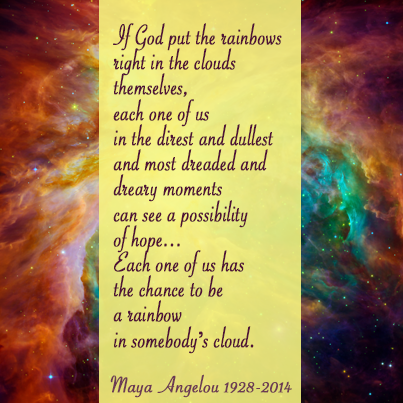 When I read the full transcript of the speech after I made this graphic, I discovered that the lead-in to the first line completely fits: "We know that rainbows, stars, all sorts of illuminations, comets and suns, are always in the firmament. But clouds get so low and dark that you can't see the illumination." I may have to make another graphic to work that in, but it's getting late. Instead I'll give you a quote that goes beyond pictures, from the Paris Review interview:
I'm working at trying to be a Christian and that's serious business. It's like trying to be a good Jew, a good Muslim, a good Buddhist, a good Shintoist, a good Zoroastrian, a good friend, a good lover, a good mother, a good buddy—it's serious business. It's not something where you think, Oh, I've got it done. I did it all day, hotdiggety. The truth is, all day long you try to do it, try to be it, and then in the evening if you're honest and have a little courage you look at yourself and say, Hmm. I only blew it eighty-six times. Not bad. I'm trying to be a Christian and the Bible helps me to remind myself what I'm about.
Peace be with you.